Since Arizona legalized medical cannabis in 2011 , regulators have not required testing for cannabis products. That is about to change in a little more than a month.
After a long and hard-fought battle by patients and stakeholders in the Arizona cannabis industry, Governor Ducey signed SB1494 into law last year, a bill that requires independent labs to test cannabis products for contaminants. More specifically, the bill requires that cannabis products be tested "to determine unsafe levels of microbial contamination, heavy metals, pesticides, herbicides, fungicides, growth regulators and residual solvents and confirm the potency of the marijuana to be dispensed."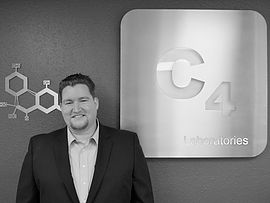 Ryan Treacy, CEO/Founder of C4 Labs and co-founder of the Arizona Cannabis Laboratory Association (ACLA), has been a vocal advocate for mandatory product safety testing since 2016. After several failed lobbying attempts and forming the ACLA with three other labs in Arizona, SB1494 finally passed in May of 2019.
Under this bill, the Arizona Department of Health Services has been in charge of building the new laboratory regulations. Those rules include certifying and regulating labs, establishing requirements like health and safety protocols, mandatory quality assurance program and standards, chain of custody and sampling policies, adequate records, accreditation, proficiency testing, among other requirements.
In a press release published by Perry Johnson Laboratory Accreditation (PJLA), they announced that C4 Laboratories was accredited to ISO/IEC 17025 this week, in time for the new requirement in Arizona.
According to Treacy, the Department of Health Services is still in the process of finalizing the technical accreditation for labs in the state. He says C4 Labs will be ready to accept compliance samples in the coming weeks. "There will no doubt be a flood of samples and a lot will be asked of the lab operators to continue to build their business to better accommodate sample volume," says Treacy. They want to minimize any disruption to the supply chain, keeping patients and clients at top of mind.
C4 Labs has been preparing for the flood of compliance testing samples beyond just their accreditation. "Over the last 16 months we have added a new fully renovated lab space, doubled our lab staff and have invested significant monetary resources in additional state of the art analytical instruments to allow for more analysis and expanded lab sample capacity," says Treacy. "We intend to make efficiency and capacity our focus while maintaining our commitment to sound science and data integrity for our clients and patients alike."
C4 Labs is currently in its sixth year of operating and was one of the original labs to serve Arizona patients. "We are very proud of the work we have put in to advocate for safe, lab-tested cannabis products and we intend to continue to lead from the front as Arizona's premier cannabis testing laboratory."
The post C4 Labs Accredited, Ready for Compliance Testing appeared first on Cannabis Industry Journal.
Comments
comments